I really hate how advances in visual technology are increasingly correlated with making everyone look more ugly and unpleasant.
what you talking about here
?
this reminds me of The Outer Worlds, everyone looks similar in the game, same mouth shape, same eye shape, same jaw shape, it's weird.. everyone looks so "sterile", like if they all were the default character with minor slider changes and a different haircut.
I found this Outer Worlds/Anthem female character pics to better illustrate what I'm talkin' 'bout: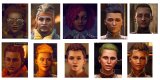 I really don't understand what Sperasoft's goal was. This remaster is a really mixed bag even if you forget all of the bugs.

Remaking all the major characters from the ground up was a really bad investment of resources, especially when you realize that the final product is objectively worse: the new realistic models (even if they look good) clash with the models that have only received new textures (like pedestrians and regular cops), also, making every single female character prettier seems like a good idea on paper until you realize that Monica Hughes is now more bangable than Shaundi, and also straying too far from what the characters originally looked like is bound to upset people no matter how good your new models are, because they're no longer the characters that players know and love (just look at Claire from the Resident Evil 2 remake for an example of that). My personal worst offenders are Shaundi, Pierce, Monica (since they also appear in 2 the changes are even more jarring), Kinzie (she looks more like a teenager who bought hoodie with FBI written on it in a costume shop rather than an actual former FBI agent who still wear her jacket to be constantly reminded of what she's lost), Matt (he just looks bad), and Phillipe (don't make your characters look like their voice actors unless they fit the character you're going for).
In my opinion they should have just used the models from SR4 since they are a bit higher res, and do some minor tweaks. This would have kept the art style and models consistent while avoiding the lip sync problem and still offering something of higher quality.
Same problem with the vehicles, even if their new models kick ass, it wasn't necessary to remake them all from the ground up, the original models didn't look that outdated. Just tweak them a bit. This would have also prevented them from completely changing some models, sometimes for the worse. Seriously, what the fuck happened to the Blaze?

If making the game more realistic was their main goal, this project was doomed from the start. Most of the changes they've made to the environment and lighting are pretty good. But instead of creating ridiculously detailed models for characters and vehicles they should have focused on fixing bugs and adding new content (like weapon customization, layered clothing, select items from SR4, and so on). Missed opportunity, sadly.
It's what I said on YouTube and people couldn't comprehend: All the changes, apart from graphical, are unnecessary.
Last edited: